By JOLT Experts on Mar 31, 2020 3:28:36 PM
UiPath's leading Robotic Process Automation (RPA) portfolio underwent a significant expansion in 2019-2020, adding multiple new product capabilities to their RPA platform, growing from 3 of their core components which include Robots, Studio, and Orchestrator to a total of 15 products by end of April 2020, which include AI Fabric, Insights, Process Mining, Task Capture, Action Center, Computer Vision.
With the rollout of new products and the market feedback on having simplified licensing options, UiPath announced a redesigned licensing strategy which includes the addition of new SKUs and the eventual retirement of certain legacy SKUs.
The goal is to shift away from selling individual point products and bundle them into packages that will provide a coherent and comprehensive end-to-end hyperautomation platform.
In this blog, we will address the new UiPath platform components and the new licensing models available to existing and new client organizations. To learn about their legacy licensing platform and licensing models, click here.
The new licensing models provide opportunities for new use cases and user personas to enable pricing simplification and product synergies to allow the customers to scale their automation initiatives with ease and more quickly.
What Changes
The new UiPath licensing structure includes the following modifications:
Products and SKUs will be categorized as User Roles (New), Robots, Management &
Governance, Services, and Support.
Retirement of Attended Robot and Studio standalone SKUs with their associated
licensing types (Concurrent, Node-Locked, Named User). Attended User and RPA
Developer User will be available as Named User or Multiuser.
Retirement of Unattended Robot Node-Locked and Sell only Unattended Robots with
Orchestration.
With the new licensing offerings, organizations can simplify and make it easy to get started with a flexible offering of user roles. The user roles provide a quick way to get started based on evolving capabilities to tailor customers' personas and remove the need to procure mix and match products separately.
With the new Multiuser licensing, organizations will be able to scale their business use cases to support scenarios that serve the teams with shift workers, variable, or season-staff across multiple time zones.
UiPath's Offerings: What Is Leaving and What Is New?
This is how UiPath's new offerings will replace old ones:
The new Attended User offering will replace the Attended Robot (Standalone) offering
The new RPA Developer User offering will replace the Studio (Standalone) offering
The new Unattended Robot offering will replace the Unattended Robot (without orchestration) offering
Retired SKUs
UiPath - Attended Robot - Named User

UiPath - Attended Robot - Concurrent User

UiPath - Attended Robot - Node Locked

UiPath - Studio - Named User

UiPath - Studio - Concurrent User

UiPath - Studio - Node Locked

UiPath - Unattended Robot - Node Locked
New SKUs
These SKUs are replacing the old ones mentioned previously.
UiPath - Attended - Named User

UiPath - Attended - Named User or UiPath - Attended - Multiuser

UiPath - RPA Developer - Named User

UiPath - RPA Developer - Named User or UiPath - RPA Developer - Multiuser

UiPath - Unattended Robot - Concurrent Runtime
Multiuser Licensing
These are some of the features of the new multiuser licensing offering:
The number of authorized users

- 1 Multiuser license allows up to 3 authorized users. Ie. 100 Multiuser licenses will enable up to 300 authorized users defined, as opposed to unlimited for Concurrent licenses.

The price

- Multiuser licenses cost 2x the price of the underlying Named User license, as opposed to ~1.7x in the case of Concurrent licensing.

Entry barrier

- Multiuser licenses only become available with the purchase of the Multiuser add-on. This add-on does not include any actual licenses. This is meant to ensure that Multiuser licenses only make sense in the cases for which they were designed, and for a large number of users.
Source: UiPath
Key Dates
The new licensing offerings are available starting on March 16th, 2020. The old pricing will be available through April 30th for new quotes and existing customers will be honored with old pricing through March 31st, 2021, all subject to the licensing models available at the time of the purchase.
What Will Happen To Existing Customers?
For customers with retired Concurrent licenses, UiPath is committed to keeping them whole by delivering commercial agreements that are tailor-made for each case and each customer. These agreements may include exclusive discounts, including for the Multiuser add-on.
If a customer needed multiple Studio or Attended Robot Concurrent licenses, they would need to acquire them through the Multiuser add-on which would include the new offerings of RPA Developer User and Attended User. This decision was made to discourage Concurrent-like licensing for a small population of users, for which the best approach would be to use the Named User licenses.
List of New Product Offerings
The following products are now available under Named User and/or Multiuser license model.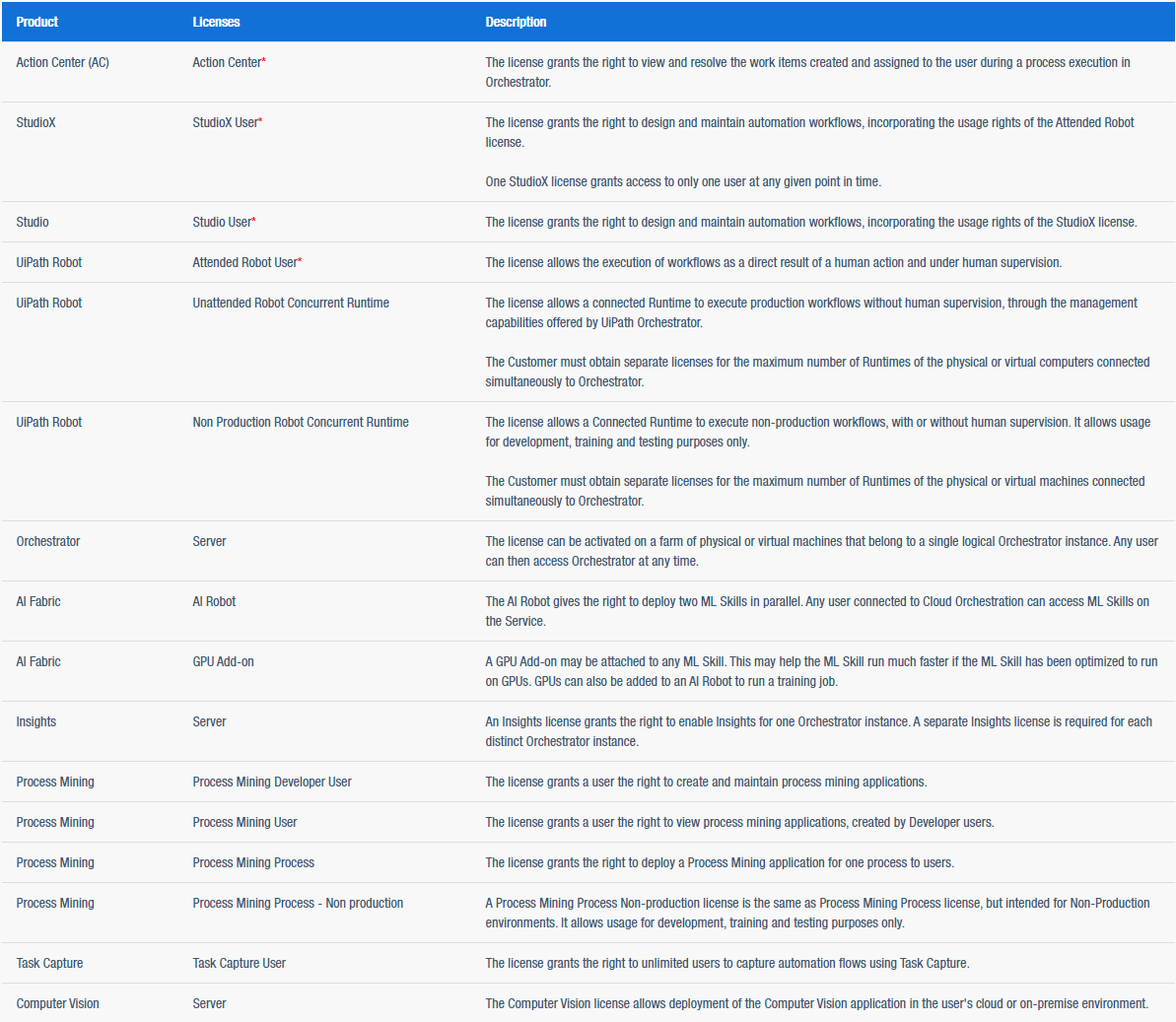 As UiPath's Innovation Partner of The Year 2019, and as an experienced Intelligent Automation services provider, we are proud to be partners with the world's leading RPA software company, their technology, their culture, and most importantly their vision inspires us everyday to provide the best in class solutions for our clients to build a sustainable digital transformation.
If you'd like to see a Demo of UiPath's new offerings you can request a free trial here.
Contact us to learn how we can help you make the most out of these new UiPath offerings and pave the path towards a robust hyperautomation strategy.
Related content:
White Papers:
Webinar Recordings: